Full Turnkey PCB Assembly
Turnkey PCB assembly service refers to the PCB supplier to manage the entire process of PCB production, including components sourcing and PCB manufacturing, mounting components on specific locations.
As PCB assembly is a process that requires knowledge not just of PCB components and assembly but also of printed circuit board design, PCB fabrication, and a strong understanding of the final product,  many big brand customers across the electrical &  electronic sector release their project to us with confidence so that they can focus on their core competences.
(Needed file: Gerber file, BOM, Qty, Lead time)
Here is a list of our assembly service ready for your project success:
Quick-turn PCB assembly
Turnkey PCB assembly
Partial turn-key assembly
PCB Prototype assembly
Consignment assembly
RoHS compliant lead-free assembly
Non-RoHS assembly
---
Our Turnkey PCB Assembly Capability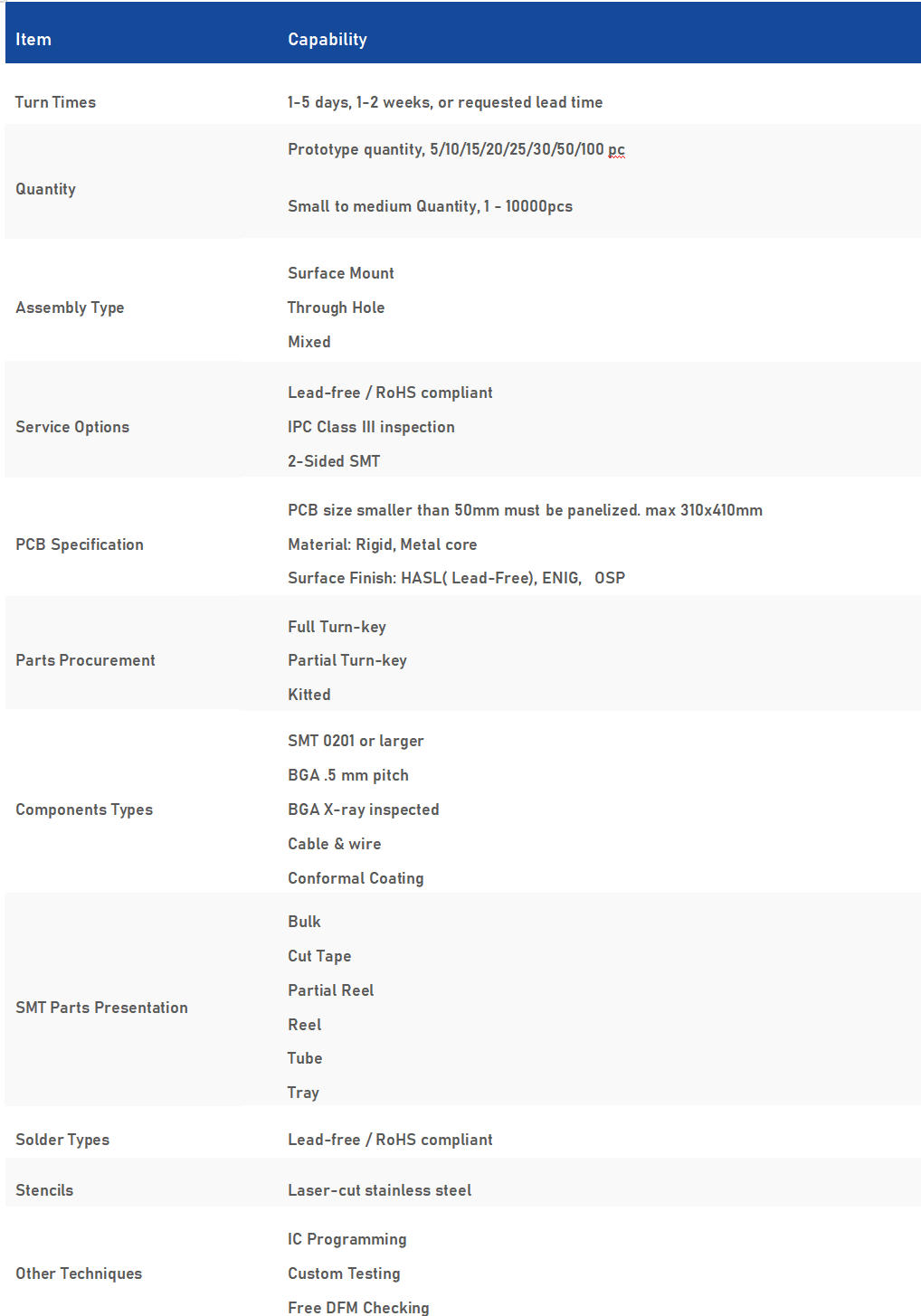 ---
BENEFITS OF TURNKEY PCB MANUFACTURING
SHORTER PRODUCTION TIMES
A reputable turnkey manufacturer will have a streamlined process that should result in shorter production times for your assembly. Some of the ways they speed things up to include:
Efficient communication. When you work with one company, your engineer doesn't need to manage contracts with multiple companies. It removes some of the stress that's inevitable when you're trying to keep in contact with multiple individuals and organizations.
Simpler component sourcing. For a single engineer or designer, trying to source components can be time-consuming and tedious. It also increases the likelihood of errors and compatibility issues. If you order the wrong component, you may not realize you have a problem until you try to assemble the prototype – forcing you to stop the process and go back and find a better component for your needs. A turnkey manufacturer is far less likely to run into this kind of situation because it has established relationships with component suppliers and has a team devoted to ensuring assemblies will mesh happily.
Less transportation time. Shuffling your product from one facility to another takes time. If you need a tight turnaround, you may want to consolidate services.
FEWER ERRORS
When you use multiple companies for PCB assembly, expect issues with communication and compatibility. 
With a turnkey PCB assembly team, you could smoothly move your project from Step 1 to Step 2, and so on without extra communication. The design and manufacturing departments know how to work together and share crucial information.
---
PCB Assembly Process Flowchart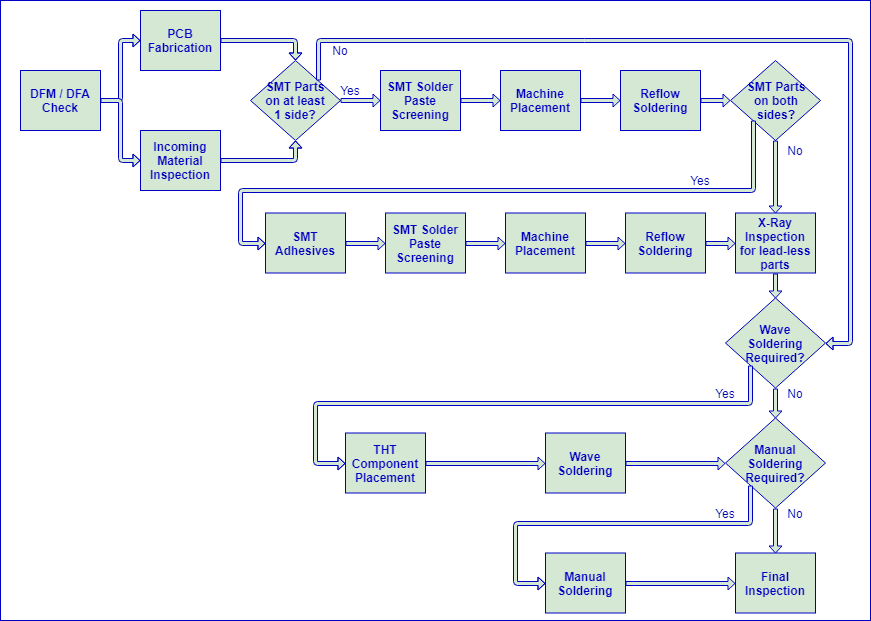 ---
Why Choose XPCB As Your PCBA Supplier?
As one of the long-established PCB manufacturers in China, XPCB has over 10 years of experience of assembling circuits for worldwide customers, completed projects more than 10000, shipped countries about 100.  Our turnkey assembly service has helped numerous clients to decrease lead time, expedite the NPI process while great product performance is ensured.