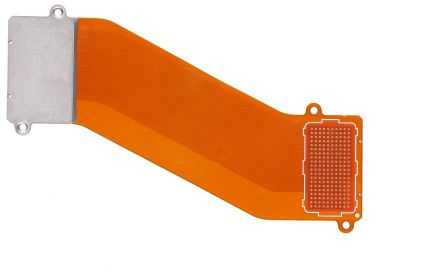 ---
Product Description
---
This is a 10 Layers Flex PCB built by XPCB, it's a high-end connector flexible board with 0.6mm final thickness for install-to-flex application. No dynamic bending performance requirement, but with strict impedance control for high-speed signal transferring as it is used in the core network station in the telecom communication filed…
·
---
Specification Chart
---
| | |
| --- | --- |
| Final Thickness | 0.6mm |
| Layer Count | 10 layers |
| Min. Trace/Space | 4/4mil |
| Dielectric | Polymide |
| Flame Retardant Properties | V0 |
| Product Application | Telecom Station |
| Highlight | strict impedance control for high speed signal transfer |
---
Our Flex PCB Service
---

XPCB is a leading flexible PCB manufacturer based in Shenzhen, China. With up-to-date FPC manufacturing technology, we offer a single layer, 2 layer FPC, multilayer flex circuit prototyping, and turnkey assembly service. 
●Max board size: 20″x40″
●1-12 layer doable
●PI (PoIyimide), LCP (Liquid Crystal Polymer) material

---
FAQ
---
● Q: What is your certificate?
A: ISO9001: 2015, ISO14001: 2015, UL, SGS, RoHS.
● Q: Do you provide component mounting service?
A: Yes, We provide both PCB production, PCB assembly (consigned or turnkey) service. You can send BOM & Gerber file to [email protected]
● Q: Do you make QTA prototype?
A: Yes, absolutely. We are especially good at QTA for rigid-flex PCB &flex PCB. Welcome to try out our amazing speedy service.
---
See More Quality Flex PCBs 
---
---
You may also interested in:
---